Since 2010 a group called "Ireland needs Fatima" has been organising Rosary Rallies around Ireland.It reached a highpoint in 2017 when 200 rallies were held throughout the country
On Saturday 14th May 2022 a local group began a rally at the gate of the Carmelite Monastery
and processed to the grotto at Holy Family Residence
where a group of Little Sisters, residents and friends had gathered.
This year the group aimed to make an exceptional effort with a public square rosary rally in every town in Ireland on 14th May. They estimated 500 rallies.
The Rosary was fervently recited, followed by the Litany of The Blessed Virgin and hymns were sung.
We were reminded that Our Lady said at Fatima "In the end my Immaculate Heart will triumph."
It is a privilege for us to be among those who trust in her triumph and honour her publicly.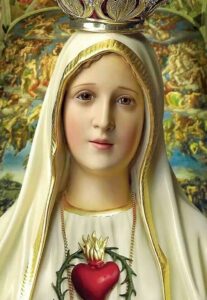 On 16th May we learnt :  "Thousands of Irish Catholics celebrated the 105th anniversary of the apparitions of Our Lady of Fatima by holding 515 Public Rosary Rallies on May 14. The rallies represent one of the widespread public manifestations of the Faith in Ireland in recent years.