Jeanne Jugan our foundress was born on 25th October 1792 in Cancale, a fishing port on the north coast of Brittany, France.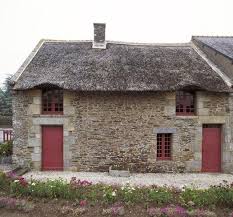 When Jeanne was only three and a half years of age her father who was a sailor was lost at sea and so her mother had to work very hard to make ends meet for her young family of four.  From this it is easy to see that Jeanne 'knew' poverty right from childhood.
It was from her mother that Jeanne learned her prayers and the tenets of her Faith.  She also learned how to rely totally on God.
Jeanne left home at the age of fifteen or sixteen to work 'in-service' at the manor house of a neighbouring family.  Her employers were kind and were always ready to give something to those who came knocking at their door – a gesture which gave Jeanne an insight into the needs of those less fortunate members of society.
It was during these years that Jeanne received a marriage proposal from a young sailor and according to local custom, she asked him to wait.  He did – for six years – after which time he renewed his proposal.  She then decided she would not marry and astonished her mother by telling her: "God wants me for himself.  He is keeping me for a work which is not yet founded."
LAUNCHING OUT INTO THE DEEP
When Jeanne was twenty-five she left Cancale for St Servan and took a position in the local hospital of 'Le Rosais'.  Here she witnessed the terrible suffering of others, especially the poor and the elderly.  Surely this was God way of presenting his CALL and VOCATION to Jeanne.
"GOD WANT ME FOR HIMSELF"
These words rang true in the winter of 1839.  In her spare time Jeanne would visit the poor and assist them as best she could.  It was during one of her visits to Anne Chauvin, a blind and paralysed elderly woman that she realized she could into leave her alone to fend for herself.  And so Jeanne took Anne in her arms, carried her home to her own lodgings and placed her in her own bed, while she herself moved up into the attic.
"The two lines of Jeanne's vocation, the human and the divine, join together to become one … There is no turning back … The limits of her little room have just exploded, together with those of her heart.  They have been thrown open to embrace the world."
Recognition of Jeanne's life and virtues was officially recognized by the Church on 13th July 1979 and then on 3rd October 1982 in the presence of 60,000 pilgrims from all over the world, Pope John Paul 11 declared her 'BLESSED'.  Jeanne Jugan was canonised by Pope Benedict XVI in October 2009.
Prayer to obtain graces through the intercession of
Saint Jeanne Jugan
Jesus, you rejoiced and praised your Father for having revealed to little ones the mysteries of the Kingdom of Heaven.  We thank you for the graces granted to your humble servant, Saint Jeanne Jugan, to whom we confide our petitions and needs (here mention your requests).  Father of the Poor, you have never refused the prayer of the lowly.  We ask you, therefore, to hear the petitions that she presents to you on our behalf.  Jesus, through Mary, your Mother and ours, we ask this of you, who live and reign with the Father and the Holy Spirit now and forever.  Amen.