We pray for priests. We have several retired priests who are resident in our homes after long lives of faithful service to The Church. We thank them all for the good they have done for others and pray that they may live peace – filled and holy lives.
Monsignor Conor Ward is resident in Holy Family Residence, Dublin.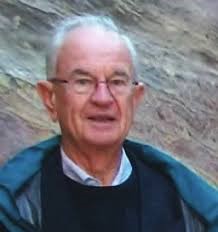 It is interesting to read the abbreviated CV which shows how he used his intellectual abilities as a professor and director of the Social Science Research Centre  at UCD.
His efforts were instrumental in establishing relations with Bethlehem University. This Catholic University established in 1973 has demonstrated tremendous resilience and sense of purpose. Its objective is to be an oasis of peace and a beacon of hope, which provides quality higher education to prepare students to create the future of Palestine.
On the occasion of the thirtieth anniversary of the University,in 2003, Father received the "Bethlehem University Special Service Award."
An extract from the award explains the reason for the appreciation.
"For many years now you have visited Bethlehem University at least twice yearly..You have formed deep personal friendships with many of our staff members…
You have employed your Irish wit, academic experience and insight to encourage and prod us along the way of improvement. You have also worked your way into our hearts. Bethlehem University moves into the future with renewed confidence and resolve thanks to the firm foundation laid by you. We shall always be indebted to you for this invaluable contribution to the development of the University.It is with immense pride and gratitude that we present to you the Bethlehem University Special Service Award."
Monsignor Conor Ward officially retired from University in 1991. He went to help in St Brigid's in Cabinteely for 16 years. They expressed it well when they said in tribute.."As he is renowned throughout the whole of his life, so too he continues to exemplify graciousness, courtesy and a wisdom which exudes an inner calm.. a gentleman, a scholar and a living witness as a faithful and devoted priest."
He is only one of so many devoted and holy priests who always appreciate the prayers of a friend.