Great fun in the Home in Ferrybank. It was announced that there would be a strawberry cream tea, the "Thursday Music Group" would be present and Rodger, the guest of honour would be coming.
Who is Rodger….was the question on all lips. Is he a singer, an actor, a clown..Suspense was great.
The courtyard was ready with bunting, tables, umbrellas and then ..it rained. So everything was transferred inside to the Concert Hall.
A horsebox arrived at the front door and out strolled  Rodger a beautiful bright grey pony. His owner, Saoirse, is a relatively new member of staff. Dressed in full riding gear she was delighted to introduce Roger to the residents.
Rodger was fed plenty of carrots. Healthy eating!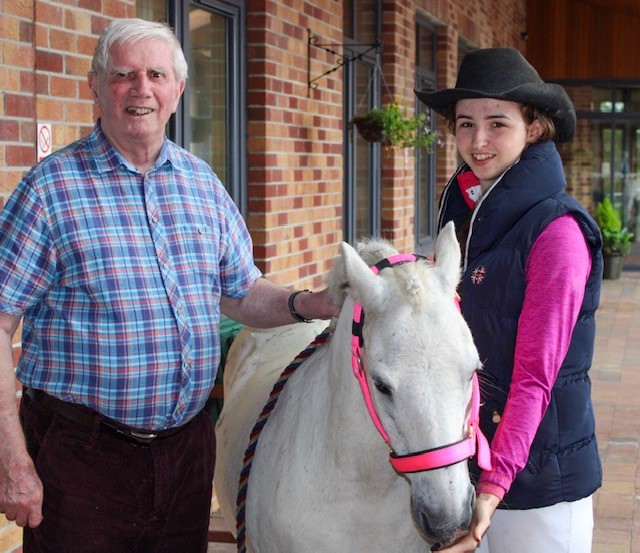 Admired by all.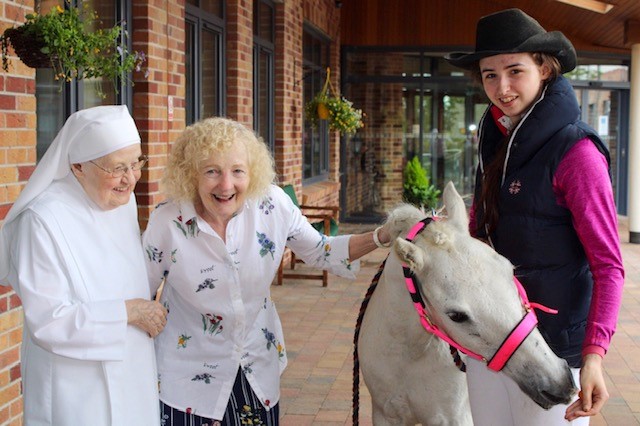 A Poet from Ferrybank sent us this explanation:
Summer Strawberry Party with our Surprise Guest Rodger.
Summer is here, Strawberries are ripe, lots of ice-cream to add to the hype.
A special guest was invited to our summer affair, with some unusual fragrant smells in the air?
The court yard was ready, bunting galore, but the rain fell suddenly, so we scrambled indoors.
Tables were set, music played sweet laments, and our residents enjoyed all the fussing in preparing for the event.
Strawberries and cream served up like a dream, a glass of wine in hand to accompany the band.
Our Mystery guest arrived outside, decked out with plaits and bows to steal the show.
Rodger entered the hall with surprise and cheer, we all laughed and smiled and even shed a tear.
Our four legged friend, Rodger the pony, twenty seven years of age, stole all of the the glory.
Carrots in hand Rodger ate well, until to our surprise an explosion, and what a smell.
This we leave to your imagination, oh how could you not just smile at this abomination.
Mops and buckets flew in the air. All was well as we refreshed the air.
Thank you Rodger for stealing the show, we will remember you fondly wherever you go.
And thank you Saoirse for introducing us to your wonderful four legged friend.