On the 21st of August 1879, 15 people reportedly saw the apparition of Mary, St Joseph, St John the Evangelist, and a lamb at the gable of the parish church in Knock. This year as the Shrine celebrates 140 years,some Sisters and Residents from Holy Family Residence were pleased to attend the novena.
A new Processional statue of Our Lady was unveiled during the mass on 21st August. Just as Mary came in the rain in 1879  so the arrival of the new processional statue was celebrated on a rainy day in 2019.
Weather was not a deterrent and thousands of pilgrims have attended the Novena during the week.
In the evening, at the time of the original apparition 140 years ago,parishioners of Knock re-enacted the scene as they played the role of the 15 visionaries.
At 8 p.m. the "visionaries" with their Parish Priest, turned to pray at the sight of the apparition.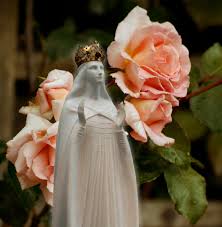 Golden Rose Queen of Ireland
pray for us.