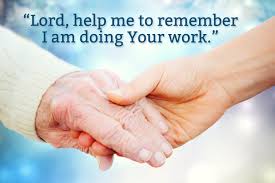 In 1839 when Jeanne Jugan began her work of caring for the elderly, many good people soon came to help her. There are so many ways of helping, and throughout the history of the Congregation the Little Sisters have experienced the goodness and generosity of countless benefactors.
We could mention so many, but today we would like to introduce you to Father Ernest Lelievre. He was born on 13th April 1826 into a wealthy family from Valenciennes in France. At the age of 26 , he gave up a brilliant career in law to enter the Seminary in Rome. On 2nd June 1855 he was ordained a priest  by the Archbishop of Cambrai and immediately became an auxiliary priest of the Little Sisters of the Poor.
As a contemporary of Saint Jeanne Jugan he would have had many occasions to meet her.
He resembled her in several respects; immense love for the poor, concern for the salvation of their souls, boundless confidence in Providence, profound humility and total detachment from all that is not God.
He spent his life to the very limits of his strength, in the service of the Congregation of the Little Sisters of the Poor, travelling the world , from Europe to North America, to establish Homes.
His happiness was to see the elderly poor welcomed and loved.  "The question was asked "Have the poor ever had a greater friend than he?"
He died on 3rd July 1889. His body reposes in the cemetery of La Tour St. Joseph, Mother House of the Congregation
You might like to join us in prayer through his intercession:
Lord Jesus, through the life and ministry of Father Ernest Lelievre,You have given your Church a friend of the poor and a tireless missionary at the service of the elderly in the religious family founded by Saint Jeanne Jugan. You gave him the grace of immense confidence in Saint Joseph, spouse of Mary.                                                             Graciously answer our prayers and grant us the grace we are requesting through his intercession….
We ask this of you who live and reign with the Father in the unity of the Holy Spirit, one God for ever and ever. Amen
For more information about the dedicated life of Father Ernest Lelievre  read his story available from Amazon